TELECOMUNIC
ATIONS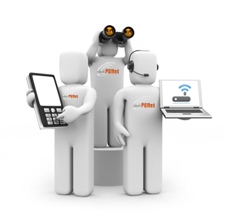 Global PCNet offers solutions in communication methods that allow our clients to fulfill the challenges of larger competition and of increasing demand for service innovations.

To accomplish this, we have specialized staff and experienced engineers, technicians, and installation personnel that guarantee you the proper functioning of the systems and communication equipment that lie under our responsibility.

Site Survey:
Internal communication cabling, electric cabling, microwave antenna and wireless equipment.

Installation and Removal:

Routers, antennas, microwave radios, structural cabling.

Preventive Maintenance and Corrective Maintenance:
Routers, microwave radios, structural cabling, and workstations.

Global PCNet
offers solutions for cabling infrastructure at every level:

Category 5E solution.

Category 6 solution.

Multi-mode Fiber Optics solution.

Uni-mode Fiber Optics solution.

Telephone Cabling.

Design, Configuration, and Maintenance of LAN and WAN.
Effective communication is vital for any business!!

We offer installation of Conventional Phone Systems
(Panasonic, Samsung, and Avaya)

Installation of Voice Phone Systems via IP (Vo/IP).
<![if !vml]><![endif]>

Contact us
for more information regarding these services.